Kelly Korner RV Park is an adult park in Zephyrhills, Florida that caters to seniors aged 50 and above. Whether you are a few hundred miles from home or traveling across the country, you won't find a more comfortable or convenient place to call home for a couple of nights, the entire season, or even the year-round.
Since we are an adult RV park, we have facilities designed especially for the needs of seniors while being a quiet, cozy, friendly 33-site Park.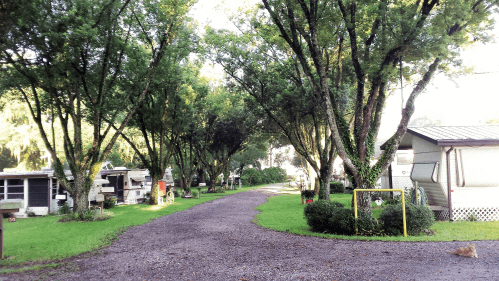 Amenities & Activities Galore
33 Full hook-up Sites, With 20/30/50 amp
Kelly Korner has 33 full hook-ups that allow the vacationers to directly connect their RV to water, electricity, and sewer. The idea is to offer them the fun of the great outdoors without giving up any of the basic convenience of home. We offer 20, 30, and 50 amp service, letting you connect to the service that best suits your RV's system.
Recreation, Sunroom, Reading Area
Since our services are exclusively for those aged 50 and above, we understand how important it is for you to keep up with recreational activities you indulge in daily. For bookworms, there is a cozy and warm reading room, a bight and tranquil sunroom where you can sit back and unwind, and an action-packed recreation room for the sports lovers.
To ensure that your stay with us is as pleasant and comfortable as it would be at home, Kelly Korner offers an on-site laundry facility for all campers.
We believe that camping today is about getting outside and making the most of your time outdoors. And while you do this, we ensure that all necessary facilities, including your bathing requirements, are taken care of by us.
Free Secure Hi-Speed WiFi
Our parks are WiFi-enabled, ensuring that you are connected with your loved ones and the world virtually even when you are on the go.
Our list of recreational activities is truly the envy of our competitors. Along with the best amenities, we also ensure you are adequately entertained and make the most of your holiday. For our outdoors and sports-loving campers, we have a range of field games to choose from.
Avid campers who own RV are often faced with the dilemma of storing these luxurious homes-on-the wheels. Fortunately, Kelly Korner offers a storage facility for the recreational vehicles in case there is not enough driveway space at your home.
For many RVers, a holiday not just means loading gears, supplies, and your partner—your pet is also a significant part of the deal. While not all RV parks are pet-friendly, we assure you that we do not need to leave you furry-four legged buddy behind. We are designed and equipped to accommodate small pets. Without per-friendly amenities, your pets will enjoy the stay as much as you.
Pool & Gym Facilities are Close by & at Remarkably Low Rates
Vacation does not necessarily mean you have to forgo your fitness routines. Kelly Korner has gymming facilities and pool at a stone's throw distance at unbelievably low rates.
Though we are thorough with all facilities and safety on the park and ensure there are no loose ends to cause you any discomfort during your stay, if you do face an issue or require the assistance of any sort, you can reach out to us—the owners—at any time. We lodge on the site with you.
RV-ers who stay at Kelly Korner RV Park during the season enjoy the following benefits too.
To make your vacation and stay with us memorable, we organize weekly coffee hours where all guests socialize over coffee and their love for traveling.
Potluck Lunches & Dinners
Our potluck lunches & dinners are a major hit among our guests. Laughter and conversations flow over pots of food and pitchers of beverages.
Also, we conduct several events to ensure your vacation as much more eventful as you anticipated.